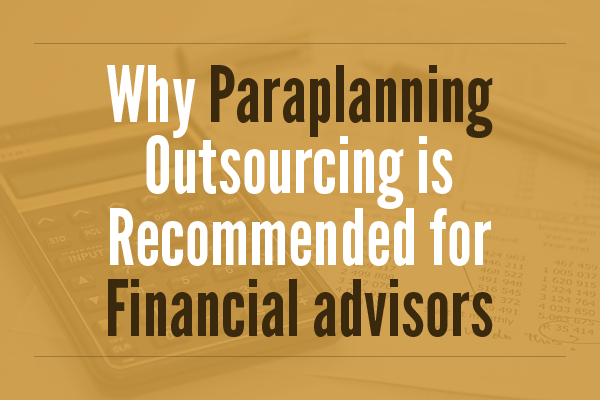 Have you heard of the term Paraplanning? Any idea what it could mean? A new concept of the financial industry, Paraplanning focuses on the administrative tasks required for businesses. These administrative duties are usually handled by the financial planners. They also manage product research, asset allocation, fund selection, report writing etc. As financial planning is a major part for businesses, it is important for you to choose a paraplanner who can manage all of your business finances.
Paraplanning can be either in-housed or outsourced. Why Paraplanning outsourcing is recommended for financial advisers? What are the benefits? Outsourcing your paraplanning is a good alternative and here is a short insight about the advantages of Paraplanning outsourcing.
Your outsourcing company will provide you with qualified and experienced paraplanner
More flexible, no need to make long-term commitment
Outsourced paraplanning companies are easy to deal with
They will deliver you on time
Save your time and recruitment costs
Increase your revenue
Reduce your overheads and works
Cost saving
Pay for the service you use
Running a financial planning business is a complicated one that is where you can make use of the paraplanning outsourcing companies. They can provide you with technical knowledge and excellent service. They can also deal with client issues and help them with quick solutions. You can find many paraplanning outsourcing companies around. To choose the best company is an important factor. Here are some tips that you can consider while choosing an outsourcing company for paraplanning
Make a trail and find whether the paraplanner suits your company
Check for the security. Your documents and collaborate should be secure
Check out the deliverable time
If you are in search of outsourcing Paraplanning Company then contact us. We have professional paraplanners who can meet all your business requirements.