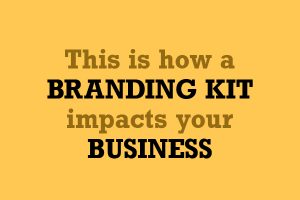 What is branding and why is it important? Branding is one of the most important factors for a business' marketing and the key to a business' success. Apart from branding, branding kit is an important factor that helps you make an identity. Branding kit includes right from logo, letter heads, envelopes and stamps to other promotional materials and a lot more. It helps your company to express what it is. Your brand can describe everything about your products or services.
Wondering how branding kit impacts your business? Here are a few points which will let you know its importance.
• Promotes recognition
With the promotional branding materials people can easily recognize your brand which helps them feel ease in purchasing your products or services.
• Helps you stand out from the competition
How much do you stand out from crowd? Whatever the competition is, you have to win, and for this you should have an effective branding kit. It increases your brand image and makes your business stand out.
• Improves your marketing
Marketing is an important factor for every business. To reach your customers you have to follow the real marketing methodologies that help your customer know about your business.
• Helps you win new business
Branding kit for your business is the perfect choice to stand apart from the crowd and win new business. People always love to tell about the brands they love. So an effective branding kit for your business can provide motivation, direction for your staff and generates referrals.
• Branding kit is the 'Identity kit'
Brand kit is useful within the organization and it is also called as Identity kit which reflects company identity. Whether your business is small or large, it creates a consistent, memorable brand identity.
Every brand kit is different, create unique branding kit for your business development. If you want to understand more about branding kit and its importance, then contact us we can provide you with professional branding materials.