Have you ever come across stories that have warmed your hearts? A story that made you feel it's worth the read. A story that makes you feel there are so many good people around you. Here are two such inspirational ones that will totally swipe you off your feet.
Story behind the Odd-Sox
Have you ever thrown out your odd socks? This Odd-Sox story is all about two 10 year old girls who collect odd socks. Their aim is to provide socks to all those who suffer in winter and make sure they have a warm feet. When you have warm feet in the cold weather, it makes your whole body warm. This donation campaign is to help the homeless on the streets of Toronto.
The project is named as the "odd sox" project which asks people to donate their unwanted socks. Both the girls found so many people homeless on the streets and they really wanted to help them out. A Toronto based organization that provides goods and clothing to those in need helped the girls to make the campaign a success. It's really inspiring and it was inspired by the idea that everyone has an odd sock at home that they wanted to get rid of. From the mismatched socks they found a real idea that could help so many poor's. The two girls Goldhar and Rangel have started with a website, odd-sox.org which is really a true inspiration.
Globetrotting Granny to turn 100
This story is about a globetrotting granny, Kate Thatcher who started travelling at the age of 90 and is still travelling. Kate, a great grandmother has been to 110 countries across the globe and now she is about to reach her 111th country. Kate as a tourist has covered every continent and nearly every country making new friends in each place. For Kate, life started after the age of 90 and she's about to go on her 34th cruise to celebrate her 100th birthday. Jerry Thatcher, Kate's son supports and cares for her the most. Jerry wants to give his mom a special gift on her 100th birthday so he's trying to get as many people who can send cards and postcards from any part of the world.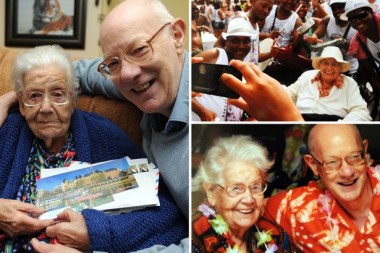 These are the few stories that really inspire us and there are many more. We need to realize that whatever challenge is thrown at us, no matter what our age may be and no matter what position we may be, if we have the urge to do something different, we always can! Be kind, enjoy your life and we wish you a prosperous and successful New Year 2016.