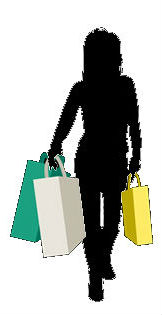 Work, for most people these days, is synonymous with stress. Sadly not many people love what they do.
But imagine doing something you really like and getting paid for it. Of course something legal

You wake up every morning looking forward to going to work, instead of dreading it. You don't check your watch every five minutes waiting for your time out; rather you lose track of the time as you work. You get paid for enjoying what you do. Sounds good, doesn't it?
Well, that's what mystery shoppers do. They shop. Anyone enjoys shopping. They do too, and get paid for it. Wondering what's the catch?
Well, there is no catch, but there is a twist!
Mystery shopping has shoppers who do everything that a normal shopper does – except that they stay anonymous and are hired by the very business to which they pose as customers.
Take a restaurant for instance. The restaurant management, without the knowledge of their staff or other customers, discreetly hires a mystery shopper. This person will go to the restaurant, order a meal like a normal customer would do and report everything that happened there back to the management. This may involve the quality of food, service, the ambiance, how long a customer waits for a table and so on. They are required to fill out a report that has a series of questions. From these findings, the restaurant will be able to assess the performance of their staff and also to enhance the dining experience of their customers.
Similarly, several businesses like hotels, retail stores, apartment complexes, banks etc hire mystery shoppers to enhance their business.
Mystery shopping: the work
All said and done, these shoppers have their work cut out for them.
They are primarily hired to report their findings to the business in question. There is a popular misconception that mystery shoppers evaluate the performance of staff and give their opinion on the business. Their job is not to evaluate, but merely report what they find. After a project, they usually fill out a report that has mostly only specific yes/no questions. Were you attended to in less than a minute? Were you given a receipt?
Questions like these have to be answered. They are required to be observant and must possess good writing skills. There are no necessary qualifications to become a mystery shopper.
Interested in mystery shopping?
There are several mystery shopping agencies across the world. Anyone interested can find and join a reliable one. You can also take a look at some companies that offer the service. Such as our site called Telestar Telemarketing. 
This is definitely interesting and can bring you a decent income. It is not easy to make a living out of this, however, that is possible if you are experienced and have several quality projects lined up.
If you love shopping, you can become a mystery shopper too. Finally you can get paid for having some fun! Have you had any such experience? Share it with us by commenting below.